**** Prices reduced by 15% off listed prices ****
Hi,
Selling a boatload of surplus kit.
All items in Dublin, Ireland, and cash-on-collection most welcome, but happy to ship (preferably UK/EU) at buyer's expense and risk. Payment via bank transfer or paypal friends/gift.
PM for further pics / details etc.
Reasonable offers considered.
Cheers
Adrian
PS: Due to pic number limit (remaining items RCF RCF H3709 1" aluminium straight horn, Emilar EH 500 2" cast aluminium radial horns and single Emilar EE 1-2 1" ADAPTER, Renkus Heinz SSH820 2" cast aluminium horns, ZXPC 2" Throat Horn Bolt-On 18"x10"For Assorted Bolt On 2"Exit Drivers 90°x 40 and DDS CFD ENG 1-90 PRO-S 1" conical horns) in separate thread:
1) Pair of RCA 9458 3" phenolic/1.4" exit compression drivers with pair of NOS/uninstalled diaphragms.
These are RCA's post-war, PM cinema compression drivers . Have the pepper-pot phase plug, I believe. On the right horn, supposedly good from circa 300 Hz to 6K. Plenty of info on the web.
This pair are UK badged and says made it in the UK, but I find that hard to believe. In excellent cosmetic condition (see pics).
Picked these up years ago (sans diapers) and managed to source 2 NOS diaphragms (in original boxes) since then. Measure 9.2 and 9.4 on my crap ohm-meter. Diapers have not been installed/used so new owner gets the very rare opportunity to hear these circa 70+ old drivers like new!
£2.2k.
(2) Renkus Heinz SSD 3301 3"/2"exit compression drivers (16 ohm) ***SOLD***
Lots of info on web.

In excellent condition and measure 10 and 10.6 ohm.

Would make a nice pairing with the Emilar EH 500, Renkus SSH820 or ZXPC 2" horns I'm also selling (see below). Eg:

Altec 32A, 32C, Emilar EH1210, EH800, EH500 and Faital Pro STH100

https://www.diyaudio.com/community/...-home-system-pt-ii.330481/page-2#post-5811997

£150
3) Single Altec 292a 2.88/3" phenolic/1.4" exit compression driver (16 ohm)
Picked this up years ago and had it remagged and installed with new 16 ohm diaphragm by GPA. Sat unused since then. Should be able to dig out GPA receipt.
In excellent condition and measures 10 ohms.
£300
(4) Altec 23691/414 12" 8 ohm woofers (with 210607 cones)
These are "special" Altec 414s (b's or c's) which were used in its 1970's Stonehenge I speakers. Both have the original 210607 stamped cones used for the 414 and the only difference that I can tell is the dustcap has no vent in the middle.
Currently untested, but both are in excellent cosmetic condition and measure 6 ohms.
£600
IMHO, would be an ideal match with the Altec 32c horns (see below) to whistle up an Altec version of the WE 753 ala JE. See:
JE Labs: Altec 753C
(5) Altec 32c (plastic) 1" exit bent horns ***SOLD**
Based on the WE 32a horn and used in various Altec speakers, including the A8, Model 15, A8, 9849, 1221/1231. General consensus is that this is the version to have (as Altec reworked the throat length to properly account for use with 1" drivers and is less resonant than earlier metal versions).

Loads of info on the net, including:
The Tale of Three Horns... Variations of the Western Electric 32A Horn

DIY - Altec 2 Way Build ala JELabs - 802/32/414

Becoming quite valuable now given the attention from J-Rob and JE.

In excellent cosmetic condition.

£400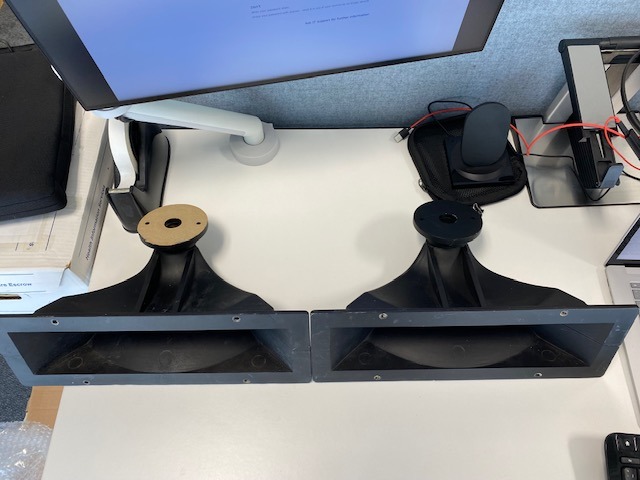 Last edited: