I have a pair of Goodmans Twin Axiom 10s and am considering using pine or Douglas Fir for the enclosures.

20+ years ago I was researching enclosures and found quite a few designs from the 1930's that sure appeared to be resonant. So does the Telefunken OB enclosure. I did not save them and now they don't come up in a search. I had a pair of Auris speakers from Hans Kortenbach, RIP, that were resonant. The front baffle was Sitka Spruce. The cabinet shape was named Rondo came up when I searched back then. Havenite efud made a pair with Betsy drivers.



A cabinet patent from 1954 mentions resonance.
Cool post thanks. Resonance is a big deal for sure. Surely takes us further down the rabbit hole of what to do in cabinet design.
I think it's fair to say that most of these cabinets,( so long as they are not sealed boxes intended to be dead ie AR1/AR3...and all others since)... depend on techniques that accentuate low frequencies in a semi resonant manner. That's why it's very important to use wood that is hard, has a nice tonality, and that it's it's not too dark or dead etc.
Going overboard on rigidity, thickness or "deadness" may actually reduce the enjoyment factor of many bass reflex, some ported and most certainly open baffle designs.
We may have had some of those Tele OB cabs in our heydey of that in the 90s.. I would agree – – the Germans were thinking of res on the thin plywood there a little bit, maybe not allot. Interestingly enough, Auditorium23 must've picked up the name from the Hammond Solovox cabinet of the (early 50s? maybe?) ... it was a potentially resonate design (on purpose).. and a very simple open baffle "Tone" cabinet. Very streamline 1940s for a 8 or 10" as I recall. Our exporter used to have a bit of luck with those in Japan. I am not sure if they were ever practically used. The A_23 build is much more complex for sure.
In the Summer/Fall of 1989~till 1991 or so, Walt setup a wood shop, and added a carpenter to payroll.... He made jigs and built a few of his 1st gen Airwave cabinets for the Western Electric 755. I think it was going to be an export product to Japan, but I don't recall. We all liked it. Walt's was not totally happy with the non-vented (but surely leaky
Altec 618, and or others spec'd to fulfill Western's very vague CuFt recommendation in the 1940s Literature. By the late 1980s, calls came in almost daily on how best to construct enclosures for the newfound interest in the magical WE 8"incher..so he saw the need.
The Altec 618 universal slant cabinet is often copied in 3/4" Birch ply.. Potential builders take note, as the originals were made from 1/2" or so, ridiculously thin, ridiculously hard pine plywood with very little bracing. The cabinet is extremely resonant, a bit boomy to me. It still sounds great in most settings if off the floor...... perhaps thanks to the material.. I'm guessing Walt drew some inspiration from the good sound of this cabinet and intended to improve upon it's good qualities.
I still have a lot of the hardwood sides, which serve as structure and bracing... (in exotic species like Purple Heart, and other very hard woods) to build these cabinets and the design – – rigid in places, and not in others... Here's One of the Yellow prototype cabinets we've loaned out to a few friends over the years. The front body of the cabinet is made out of bent 16th inch acoustic plywood.... sounds nice and looks beautiful...and it was allot of work (would be easier now).... And for the next 25 years he recommended open baffle for the 755A... Because he really liked the efficiency and clarity that OB gives so well...and gives almost anyone an easier route for less expense.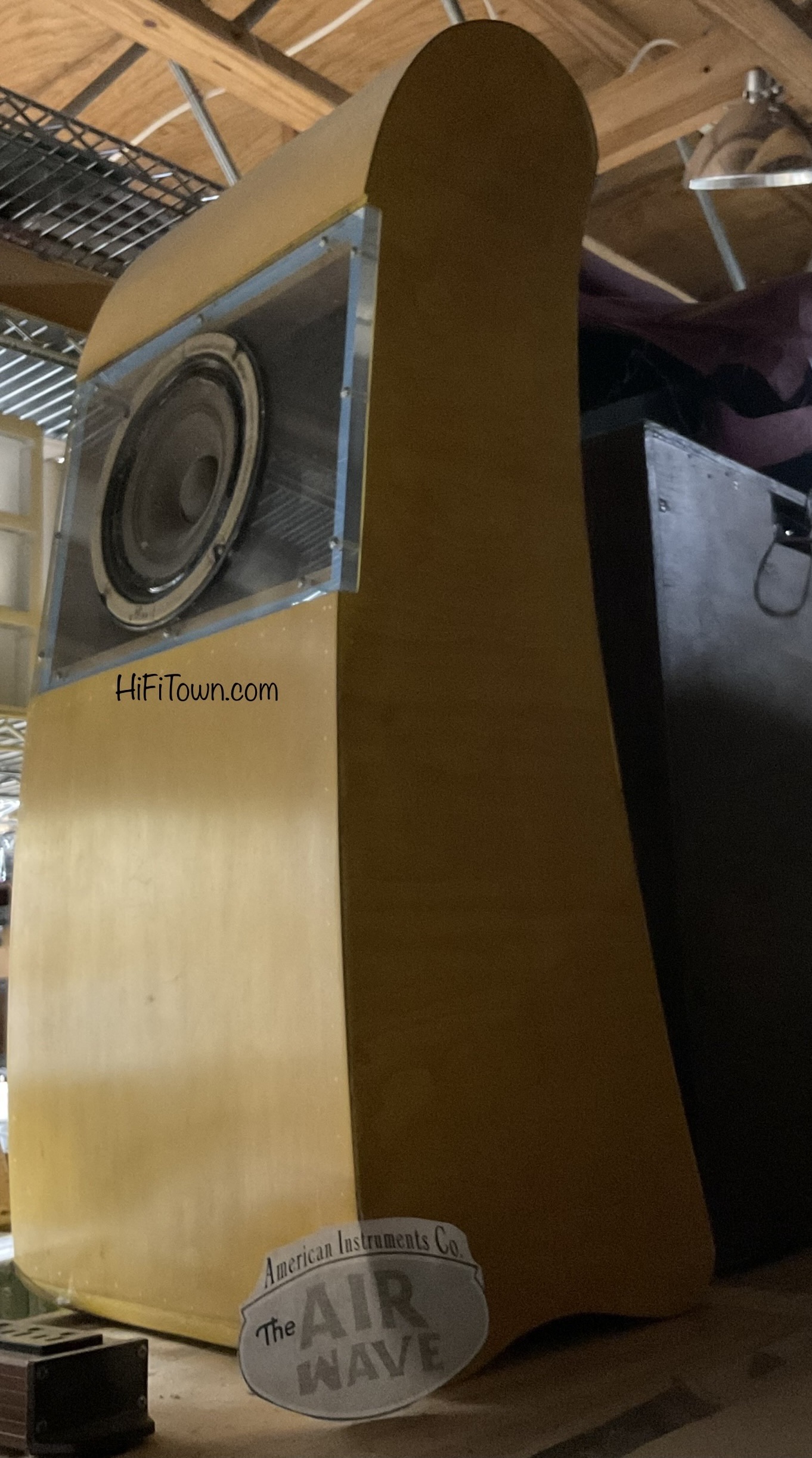 American instruments Airwave cabinet, circa 1989 for 755A